Insurance Business Cards And Building Your Client Base -- This Might Hurt A Little...
Insurance business cards are a necessary part of the daily prospecting and networking aspects of selling and marketing insurance.
The problem that I encounter constantly with agents and business owners is how much time is spent on creating an insurance card design. Stick with simple designs like the ones at Vistaprint.com. Spend more time marketing and prospecting because insurance business cards are not what's going to make the sale.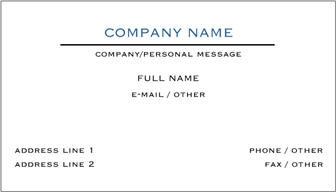 It's very interesting to me when I see how much energy and effort is put into coming up with a life insurance business card (for example). I mean, the effort that is put into coming up with a design, logo placement, font, and layout, is over the top.
I've witnessed top agents and millionaire business owners spend not hours or days, but weeks proofing, changing, and re-ordering business cards! In the meantime they are spending less time on their marketing and sales efforts. Astounding...
And one day it hit me. If you read my articles and email mini course material you know that I am against any kind of brand advertising because frankly, it doesn't work. And it's expensive.
But business owners, and insurance companies, and insurance agents especially, are so concerned with their image that it filters over into how they design marketing, print material, and insurance business cards. So I get it! You don't want your image hurt by an unprofessional card design. You don't want to offend anyone...
The Truth Is Hard To Swallow!
But here's the truth! Nobody is thinking about you as much as you think they are. And nobody cares what your insurance business card looks like. Don't fight me on this now... Has anyone ever said to you, "Hey, this business card is excellent quality and looks very professional. I want to buy life insurance from you!" Never, right?
Best case scenario a client liked you so much that he or she gave your business card to a friend and said, "Call this person."
And now-a-days smart phones are taking over the world. Prospects will put your phone number into their phone, or use an app and scan the business card and then trash it.
First it's about prospecting and insurance lead generation first. Second, it's about selling. Third, and more importantly, it's about getting the prospect to like you and trust you. And if they trust you then the sale comes easy.
Insurance business cards do not get people to like you, and they are not good prospecting tools unless you take a very unique approach which I'll get into in a moment.
Take for example life insurance business cards. A simple design to consider is like the one below...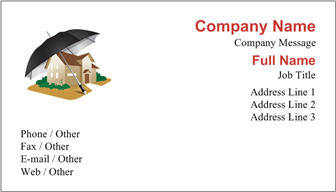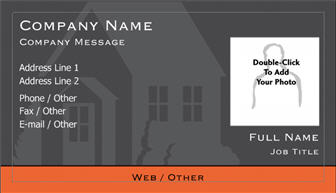 If you don't' like it you can design your own with your own logo at Vistaprint.com as well. But please do not spend your valuable time agonizing over how it looks because nobody cares!
More Unique Approaches For Business Cards -- Prospecting and Insurance Lead Generation: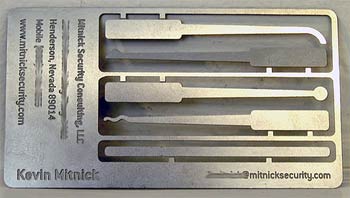 This very cool business card is made from metal, and the objects are pick locks that you can punch out. This was created by a famous hacker who spent time in jail. After he got out he started a security company.
Get a few promotional items to go along with your business cards. Have you heard of 'lumpy mail'? Lumpy mail is a term used in direct response marketing that describes envelopes and packaging that looks and feels lumpy. Lumpy mail gets opened and read. Regular boring mailings do not.
Promotional items you can get right away along with your insurance business cards to use in your mailings are: magnets and maybe post it notes with your contact information on it. Pens are good to.
If you are going to spend time agonizing over a life insurance business card or a p&c business card, make it really stand out...
Get an odd shape and size
Get a plastic business card in an odd shape and size
Make it look like money and on the inside have your unique selling proposition and contact information
Attach a promotional item or 'widget' to your business card: a mini magnifying glass with the statement, "I'll Magnify Your Insurance Premium Savings By As Much As 55%!"