This Insurance Leads Review Reveals The Inner Workings Of A Real Time, Live Transfer Lead Generation Company
Before reading this insurance leads review of InsuranceLeads.com, I suggest you read my article on real time leads.
Insurance Leads Review Part 1:
InsuranceLeads.com is the largest of all the insurance lead generation companies on the internet.
But are their leads worth your time and money?
Let have a look. First off, they are cutting edge when it comes to lead generation, real time leads, and live transfer leads. This is important because many lead generation companies are relying on older methods to generate leads which can result in poor quality leads and fewer leads. And in turn they struggle to produce qualified leads to insurance agents.
We know this because InsuranceLeads.com offers live transfer leads on all lines of insurance. There are no other insurance lead generation companies that are able to accomplish this.
Insurance Leads Review Part 2:
They also have a good filtering system. It's not perfect, just like any lead generation company. There is no way to guarantee that the information submitted to them is totally legit. But, they have a very generous credit policy. And it's easy to apply for a credit. Unlike some insurance lead companies we reviewed, their credit on insurance leads is hard to figure out and you have to jump through hoops.
With InsuranceLeads.com, you'll find a link on your login page, and that's it. Just click the link and you can submit your bogus lead for credit. As a matter for fact, each insurance lead has two links for you to choose from -- one is to request a credit, and the other link is to activate a follow up system on the lead.
Side Bar: In our insurance leads review of various companies, we have yet to see anything as advanced on every level. This is a good sign that they are on top of all their insurance lead generation methods.
This follow up system is very helpful because the prospect will receive up to five automated emails, just like the came from you. They remind the insurance prospect to contact you about the insurance quote they requested. Once you reach the prospect you simply cancel the follow up emails.
Insurance Leads Review Part 3:
InsuranceLeads.com provides real time leads and live transfer leads. You can elect to have leads directed straight to your telephone (live transfer), email, and even in text message form.
You will be competing with other agents in your area. But this is normal for real time lead generation companies. You'll probably be competing with 3-5 agents. This may sound daunting, but if you take fast action on your real time leads, and you have a good proposal, you'll probably close in the 20% range.If you don't then you need to analyze your follow and sales techniques.
Side Bar: Our insurance lead reviews have revealed many things about an insurance lead generation company. One of which are any complaints that are out there. The only ones we found complained that they were competing with other agents. Most insurance lead companies who sell leads sell their leads to other agents. And they sell to as many as they can. But in this insurance leads review of InsuranceLeads.com we found that they are very up front about this, and they limit the number of agents they sell a lead to. Other companies are not forthright about this, and frankly are shady when it comes to this. So we were quite impressed in the area.
If you are a little old school, you might have trouble getting up to speed on real time leads. Read our article for more.
InsuranceLeads.com has a very generous offering for first time agents. They will match your initial deposit when you register and sign up for their leads (registering is free and there is no obligation to buy leads) for up to $200 in FREE leads. In other words, if you put in $200, you'll get $400 worth of leads. They will also match you in smaller amounts as well: $100, $150. They will match you dollar for dollar.
Insurance Leads Review Part 4:
Here is a short run down of how they work. When a potential insurance prospect submits their information on one of their sites, consumers read the disclaimer that they may be contacted by up to eight agents. Many insurance lead companies don't have that.
Once they have submitted their information, these prospects receive an email which thanks them, and introduces them to the agents that will be contacting them for quotes.
As I explained above, you can elect to have a follow up system on your prospects in case you can't reach them on the phone right away, or you can request a credit if you feel it's a bad lead.
I recommend InsuranceLeads.com. Especially since they have a killer offer (dollar for dollar matching on leads. It's free to register and you don't have to activate your account with them.
You should try them out now.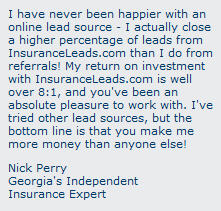 Lead Quality: Excellent
Support: Very Good
Lead Generation: Superior
Related Articles: