Insurance Newsletter Tips and 'Done For You' Recommendations!
Using a print insurance newsletter and an email newsletter is a proven way to generate referrals and additional sales from clients and prospects.
A good newsletter does all the pre-selling for you. So when a client calls for insurance or planning they are not calling for a quote in most cases (although that's not bad either).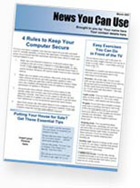 By they way, did you know that for every month you don't contact your clients or prospects you lose 10% of your influence with them? A quality insurance newsletter keeps you in contact with them AND it dramatically boosts your influence with them as well!
An insurance newsletter that has good information, is fun, interesting gets clients calling to fill out applications and referring their friends. Plus, it has a long shelf life.
Conversely, a glossy professional newsletter with beautiful pictures all over it and no personality will make a good coaster for your coffee or your child's cereal bowl, and then it gets tossed.
So what are your options when it comes to an insurance newsletter?
You can use Microsoft Publisher or even Microsoft Word to edit a template (I've done this myself many times in the past with both programs). And you can either write the articles and put images in yourself, or you can hire a writer using services like Guru.com, Elance.com, or Rentacoder.com.
This is a good option if you have time to organize it and get it printed and mailed.
Your second option is to use a service that has insurance newsletter templates that you pay for, download, open in your word processor, and then edit it. You again have the problem of time writing all the content.
A service that provides newsletter templates is LayoutReady. They have some decent templates for a small price. But I don't recommend them unless you have time. You may find them nice looking, but you can do better yourself, in my opinion, using Microsoft Publisher templates (they require more editing but they are free and easy to work with).
If you want to cut the work load down dramatically there are a few services to consider. The first one is InsuranceNewsletters.com. They have both print and email newsletters that you can edit yourself and print yourself, or they can do everything for you...print, mail, and email.
Their newsletters fall a bit into the overly professional side, but they have good testimonials on their site so you may want to give them a shot. But before you do...
My Strongest Recommendation:
My insurance newsletter recommendation is ReadyToGoNewsletters. Their newsletters are right on target. They look good, and if you have them create the newsletter content for you, you will be very pleased because they 'get it' when it comes to marketing. They understand that it has to be interesting and fun to read...because if it's not you won't generate leads, your phone won't be ringing, and nobody will refer their friends or family.
In addition they have both print and email versions of your insurance newsletter. And you can choose from any number of packages. From the 'done for you' package where they do everything including managing your list, to a bare bones program where you can choose a print or email newsletter only, and everything in between.
They are very responsive, helpful, and understand marketing really well.
You should definitely go with ReadyToGoNewsletters. You can't go wrong and they have a good guarantee. Just read the testimonials...